MindMyHouse News 9 February 2022
Hello again to all our global house sitters, from our little island of Waiheke. Apologies that we haven't written for a while! In this issue, we have finally made our 'house sitter agreement' editable. About time! And a few gems from our Advice/Help section.
Gosh but it's been yet another turbulent year since the global pandemic started to sweep across the Earth and send her inhabitants scurrying back into their burrows and nests in a frantic effort to stay safe and to survive. Well, many years (and months) later, survive we have!
House sitting agreement is now editable – about time!
One of our intrepid house sitter members emailed us recently with the great suggestion of making our 'House sitting agreement' editable. Surely being able to download the agreement and filling it out on a computer should be easy, right? Well now it is, and our apologies for taking so long to getting around to doing this. Thanks for the nudge 😉
Each field can just be clicked on (after you have downloaded the PDF file) and you should be able to enter in the text as you need to, then print it off when it's complete. Works well with Adobe Acrobat (it's a standard, apparently).
We've also added our 'Before you go' checklists to the end (as appendixes) in case you need some bedtime reading (which now goes to a huge 32 pages!). You can also choose to just download the short version too.
What is our 'house sitter agreement'? When two perfect strangers meet and arrange to take care of each other's house sitting requirements, it's a good idea that they both go into the situation equipped with a copy of this agreement. We've tried to cover all the bases with this plain-English document but as you go through it together you may think of further amendments, clauses and deletions you'd like to make to suit your particular situation.
We've also updated this agreement to include new technology, like security cameras and/or recording devices.
Download our essential house sitting agreement:
Checklist? What's that?
While we were working on reformatting our 'house sitter' agreement, and adding our 'Before you go' checklists, we couldn't help but noticed how amazing this content is! We compiled these checklists years ago (back in 2005) to help home owners and house sitters prepare for their house sitting assignments. These 'Before you go' checklists have some amazingly useful stuff in them. So, in case you were unaware of these little gems, here they are for your delectation:
So many things to check for!!! Who knew?
Our favourite checklist item: "Make sure your garden tools are accessible and leave a copy of your shed keys for your house sitter." How many home owners have left instructions for the house sitter to tame that unruly garden, only to find that the garden shed with all the tools in it was locked 😉
Here is another gem: "And lastly, leave a piece of your worn clothing in your pets' sleeping area to give them a nice reminder of their beloved human while you're away." It's the little things, right?
Here's a good tip for home owners with pets: "Tell them when you'll be coming back home (some people believe that our pets understand these reassuring messages)." We surely do! Our ten year old Springer Spaniel Ella also seems to know it's 'that' time as soon as we drag out the suitcases :(. Here she is enjoying life on Māngere Volcano, Auckland (below).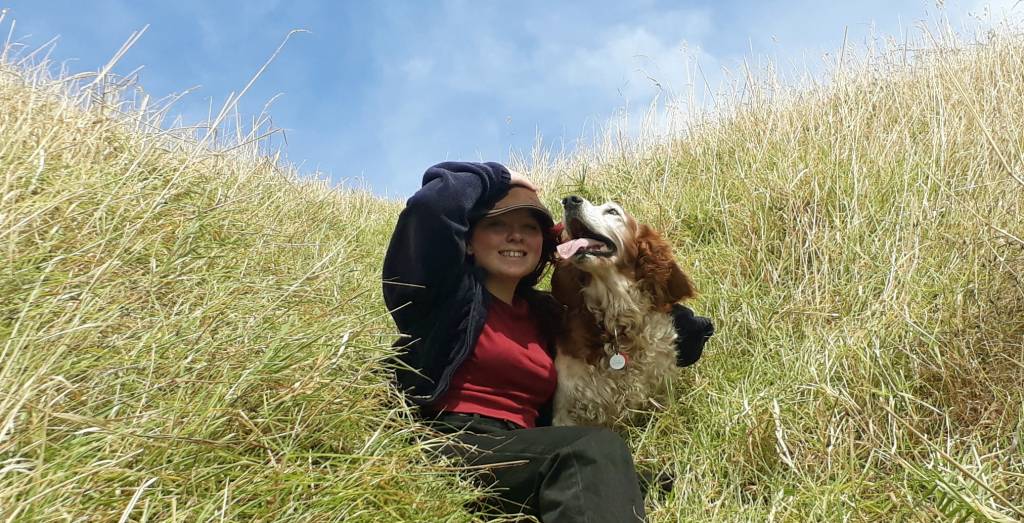 Looking to the future…
As the World opens up again to free movement, we are making a considered effort to re-build our wonderful house sitting community. With house sitter numbers now plateauing at 55% of pre-COVID levels, it's time to re-energise! This is a call out to you , to help us to do this. "What can I do?" you may ask. Well, Google search engine is now showing review sites in their search results. And didja know (?) that in a quirk of the human brain and its default wiring, people only tend to make the effort to leave an online review to complain rather than to praise.
To help us to re-grow and to bring you more Abundance, PLEASE leave a few kind words about our service on one of the following sites:
Sitejabber @ https://nz.sitejabber.com/reviews/mindmyhouse.com
Trustpilot @ https://nz.trustpilot.com/review/www.mindmyhouse.com
This will take about five to ten minutes. They may also ask you to verify your email address. This will be totally worth it 🙂
Let's keep going! Thanks in advance!
Lastly, about social media…
You won't find us on social media for a reason! We think that stuff is fluff. Our business ethos is about providing our members with an advertising free zone in which to find each other and meet up to do all that adventuring while house sitting worldwide. No sponsorship, or pictures of women laughing at salad on our site!
With love,
The team @ MindMyHouse