Home owners: check out your new 'My Sitters' feature
Introducing your new 'My current sitter & applicants page', which will list all of the house sitters who have contacted you, or whom you have contacted via our Message Centre.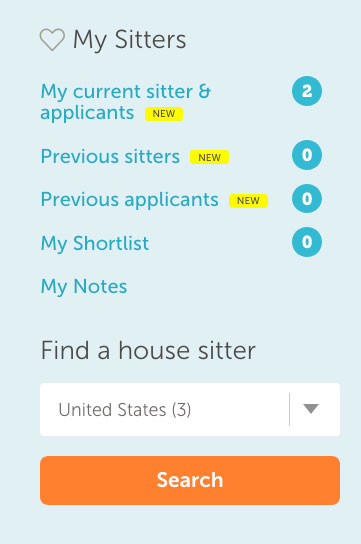 Since we launched MindMyHouse in February 2005 (15 years ago!) we have received a ton of comments from you regarding your messages to house sitters, including: "I want to be able to reply to all house sitters who applied, in one go!", "Isn't there an easier way to pick my house sitter?" and "I want to be able to see who house sat for me in the past." And so, voila, the next time you login to your personal Dashboard on MindMyHouse, look to find your brand-new, just-outta-the-box 'My Sitters' section.
Overview
Your new My current sitter & applicants page will list all of the house sitters who have contacted you, or who you have contacted via our Message Centre. From here, you can see all your house sitter applicants for your current assignment in one spot. This is your one-stop-shop for viewing, choosing and notifying your applicants of your decisions. We have automated many of these choosing and notifying processes for you in an attempt to do the 'heavy lifting' for you, esteemed home owner members. One click of the 'Choose' button will now automatically notify your entire list of applicants as to your decision. Knowing human nature as we do, however, it's also easy to change your mind and to choose a new house sitter and un-choose the previous house sitter in this very same way, also with a single click of a button…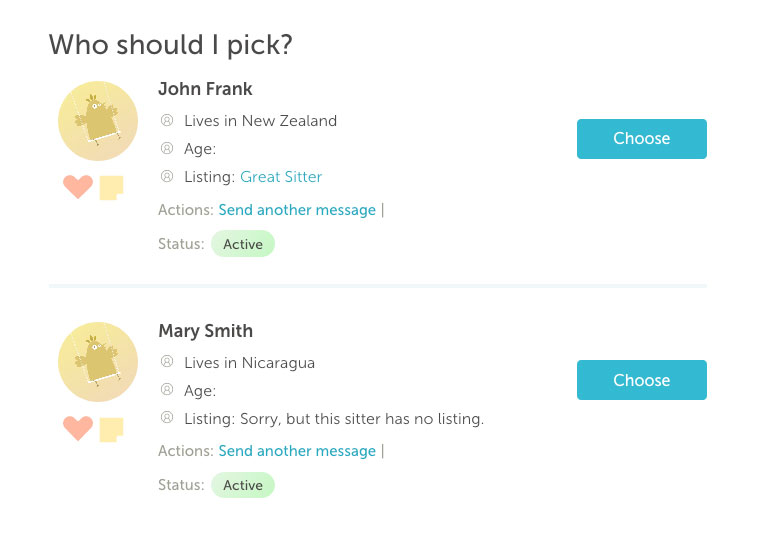 Who do I pick?
At the heart of this new process is the 'Choosing a house sitter' action. When you 'choose', or select a house sitter from your list of applicants, a series of automated actions will be initiated. We like to think that this is where all the magic happens. When you confirm your choice, we will send a confirmation email to your selected house sitter. AND, drum roll… we will send out another email to everybody on your list, automatically, in one go, who wasn't successful. And yes, you can customise these two emails yourselves with all the personal touches you want to include…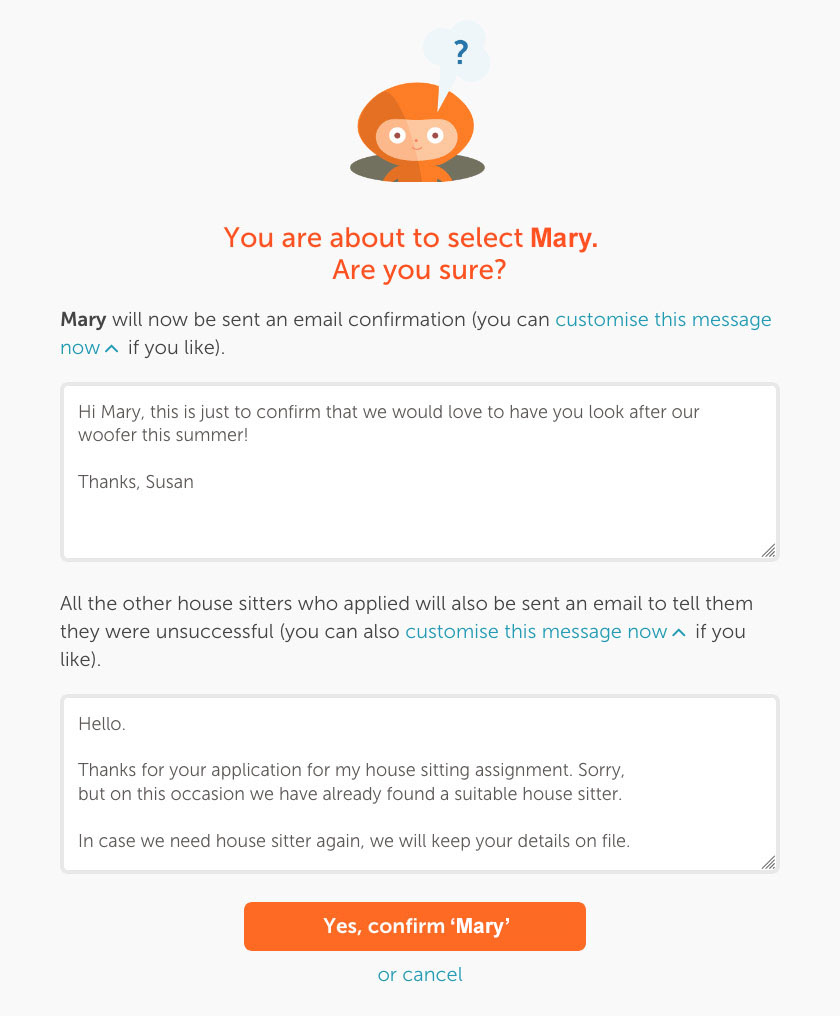 My previous house sitters
From your Dashboard, you will also be able to see a list of all of your 'Previous sitters'. This will display all of the house sitters you previously selected for your assignments (note that this new feature will only kick in after April 2020). Please also note that if you notified your successful house sitter/s outside of our internal Message Centre on MindMyHouse, this information won't show on this list.
Wait, do I have to create a 'Sitter wanted' listing to make use of this new site feature for home owners?
In order to benefit from all the efficiency and organising power of this new 'My Sitters' feature, you will need to have a 'sitter wanted' listing on our site. Of course, you can still contact our house sitters directly and make your choice of house sitter/s that way but to make things easier (for you and for your list of applicants), we do recommend that you create your own 'Sitter wanted' listing on our site. That way, we can do all of that organisational 'heavy lifting' on your behalf.
Do I have to do it this way?
No, you don't have to 'Choose' your next house sitter using our new 'one click' automated system. You can still contact your preferred list of our house sitters the old-fashioned way, using mobile phone or writing to them via email. But we are hoping that by using this new system, we've made things easier for you by automating many of the tasks that you would normally have to make an effort to do yourselves.
Also, we kept your Message Center as it was. No changes there!
Other features
In addition to those features we've already mentioned, there are a few other cool things we've introduced.
Too many applicants? Not enough?
Have you ever had too many house sitters contacting you, hoping to look after your animals and home in your absence? Or not enough, perhaps? We've introduced a new feature to try and help you in both of these situations. When house sitters now search MindMyHouse, they can now see if only a few of our members — or if what seems like too many – have applied for your 'Sitter wanted' listing. Hopefully this will help…
Look for our house sitter members' 'My house sits' number badge
When you are viewing our house sitter members' listings, note the new 'Total sits' feature attached to these listings. This will show a count of how many house sits our house sitter members have completed successfully. Please note that we have only just started collecting these figures (as of April 2020), and thus all house sitters will have to start on the dreaded '0' with this. So please take this into account!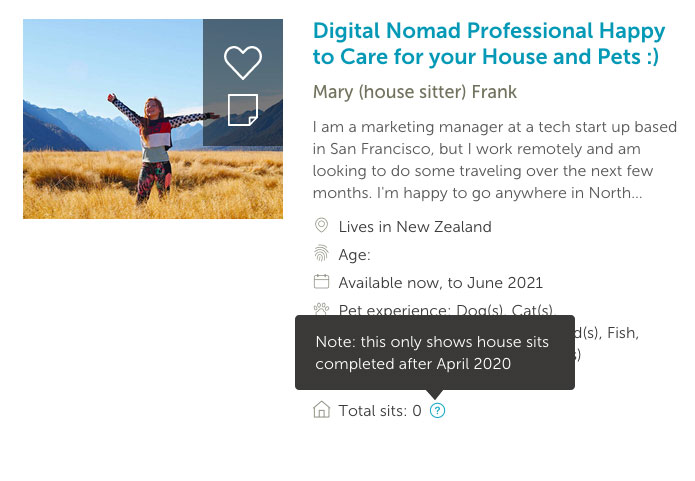 Changed your mind? Need to cancel?
No problem. You can still un-choose and then re-choose another house sitter, or cancel your assignment, as long as you've left enough time to do this!
And lastly…
Please note that all of the records of your previous, current and future house sitters found through our service apply only after April 2020, which is when we rolled out this new this new raft of features. Any house sitters who contacted you before this time won't show in your list, so please refer to your personal records of messages either in your Message Centre or at your personal email address for this information.
Also, we've updated our Support area with thirteen new FAQs on this subject to help you out as and when required. If you have a question, please try there first before contacting us.
It sure took us a while, but we feel that we have finally (mostly) caught up with our most popular competitors in terms of the level of sophistication of our website platform. This is despite being a little Mom and Pop business and not having a ton of staff! We are now confident that we can offer a similar level of service with our new wraparound site design, for around 10% of one of our competitor's annual dual membership fee. Of course, as per our original promise, home owners will always use our site for free. If you love it, send us a quick comment on our Community page. Enjoy!